Strut Service Work at County Line Nissan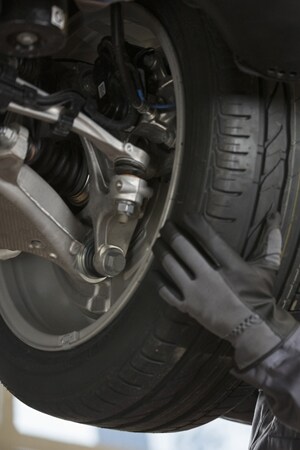 What is strut service?
The struts in your vehicle consist of two different parts-a spring and shock absorber. A spring helps to lessen the impact of large bumps on the road through absorption, with a shock absorber mitigating the vibrations that you feel. Inspections to ensure that damage to these systems is addressed in a timely manner can be vital to the overall functionality of your vehicle.
Why does strut service matter?
With a leak or damage to your strut system in your vehicle, your ride quality can really suffer. With major bumps experienced and very little support, you are going to enjoy your time spent behind the wheel much less often. And this damage can impact other components in your vehicle, potentially putting you at risk.
When is it time for my next strut service?
We can inspect your vehicle's struts at every oil change, tire rotation or routine maintenance appointment that you schedule. This will be important to keep you updated on potential damage or wear accrued, so that you can have the context you need regarding the condition of your vehicle.